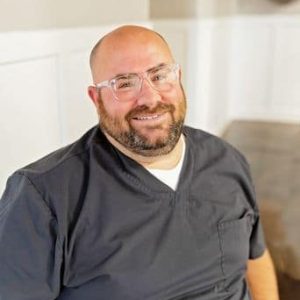 Dr. Michael Warner loves his job because it allows him the opportunity to interact and form friendships with some of the greatest people he knows. Dr. Warner was raised in Kearns, Utah and graduated in 1995 from Kearns High School. At the end of school, Dr. Warner served an LDS mission in Italy. When Dr. Warner says it's God's country, he means it. Anyone who has been blessed with the opportunity to spend anytime there knows it. What a choice experience it was for Dr. Warner. 
When he returned from Italy, Dr. Warner married the love of his life, Amber, and they have four wonderful children whom they adore. After finishing undergraduate studies at the University of Utah, Dr. Warner and Amber packed up their kids and moved to Pittsburgh for dental school. The four years spent in Pennsylvania were truly some of their favorites, full of wonderful people and lasting memories.
Upon returning after graduation, Dr. Warner's goal was to always have his own practice which would afford him the opportunity to help others and run a business the way he wanted. The motto of Warner Family Dental is, "Our commitment is to treat you like you're a part of our family"! That's truly what we strive for. When you walk into our practice, you'll always be greeted by a friendly face and a welcoming environment. We are honest and affordable and treat you the way Dr. Warner would want his family treated. Give us a try! We look forward to meeting you.
DMD degree from University of Pittsburgh

Member of American Dental Association

Member of Utah Dental Association
Dr. Doug Hansen was born and raised in Taylorsville, Utah. He studied his undergraduate studies at the University of Utah and is a big Utah sports fan. He completed his dental school training at the University of Pittsburgh School of Dental Medicine in 2014 and moved back to Utah upon graduation. He then relocated to Nashville, Tennessee in 2017. Spending the last four years living his good life in Tennessee, Dr. Hansen returned in the beginning of October to start working with Michael Warner Family Dental.
Dr. Hansen strives to have his patients feel welcomed and appreciated. He understands the anxieties that people have about coming to the dentist and does all he can to help his patients feel calm and comfortable while they are in the dental chair. 
Dr. Hansen has been married for almost 22 years and has six children: twin 20-year-old boys and four daughters (18, 15, 10 and 7). He enjoys spending time with his children at the swimming pool and sharing classic movies from his childhood with them. He also enjoys golfing and reading.